Maron is a real-time multi-currency Internet payment processing service that allows businesses to trade in over 150 currencies. Funds are then deposited into any bank account around the world in one of 16 currencies, including US Dollars, British Pounds and the Euro.

This creates a comfortable shopping environment for the end user because they can pay in their home currency.

Maron offers e-commerce merchants the flexibility to choose the currency they wish to receive as well as charge, while avoiding foreign currency conversion and the associated currency risk. Most payment processors restrict companies to "single currency" Internet credit card transactions.

Maron enables companies to transact in as many currencies as they wish, providing multi-currency processing for the Internet. Maron allows companies outside the US to deal in US Dollars, which is the default currency on the Internet. Many overseas customers are reluctant to buy from companies outside the US because of uncertainty surrounding currency exchange and the legitimacy of the merchant. Maron allows non-US Internet merchants to display their prices in US Dollars, without worrying about currency exchange, thus strengthening consumer confidence in non-US e-commerce sites.



The benefits to you are:
There is no need to open a foreign company in order to accept foreign currency, so you reduce the costs associated with accepting foreign currency

Increased customer confidence in your business because you are trading in a well accepted currency such as US Dollars, British Pounds and the Euro

You can create a comfortable shopping environment for your clients by letting them pay in their home currency without having to convert currency

Centralised operations as you only need to establish a company in one location, but can be paid in as many different currencies as you want

Simplified integration because there is absolutely no software to install

Unparalleled security using Industry Strength SSL encryption

Accurate and reliable international credit card processing

Maron accepts all major credit cards, including Visa, MasterCard, Diners, Amex, JCB, Bankcard, as well as European debit cards.

Here how it works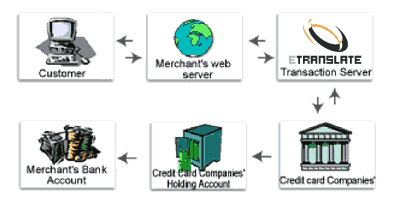 1. The customer enters their personal and credit card details into a webform on the merchant's site using a secure web interface (e.g. Internet Explorer).
2. Details are securely logged in the merchant's database and transmitted to the Maron –Pure Commerce Transaction Server.

3. The Maron –Pure Commerce Transaction Server transmits the details to the appropriate financial institutions for validation via a non-traceable, SET connection.

4. Steps 1, 2, 3, are then reversed. If the transaction is approved by the credit card company funds are withdrawn from the customer's account. The customer is given access to what they have paid for. If the transaction is declined, a response is sent back to the merchant and the customer is informed.
5. Funds that are withdrawn from the customer's account are settled to the credit card company's non-interest bearing trust account.

6. Credit card companies remit total funds in original currency directly to merchant's bank account every 14 working days.

Real Time Credit Card Transactions
Transactions that go through the Maron transaction server are authorised in real-time. A typical transaction takes approximately 3-5 seconds.



Mission Control Console
Maron also allows you to perform manual transactions through our secure web interface called Mission Control. Mission Control has many functions, one of which is that it can act as a virtual swipe terminal. Mission Control is completely web based, so you can conduct manual transactions from any web browser. Communicating with the Mission Control is secured via SSL. It is password and user id protected.



Credit Cards
Maron Can Accept:
Visa
MasterCard
Amex
Eurocard

Merchant Services
Maron is now able to issue with merchant status for your e-business.



What are Merchant Services?
In order to process payments via the Internet, it is necessary to acquire merchant status to process electronic payments. If your business already has merchant status for a real-world business, you will still need to apply for electronic merchant status.



How do I apply?
In the past, electronic merchant status could only be acquired from a bank. Maron is now able to issue merchant status to Internet merchants, through a strategic alliance with a financial institution within the European banking network.

Many businesses have found that acquiring merchant status is the most time consuming process in developing an e-business. Banks often refuse merchant status, because a company is either too young or they are in high-risk industries. Many banks will not issue merchant status at all because they do not understand the e-commerce industry.

Maron merchant services remove this burden, because we arrange for merchant status to be issued.



The Benefits
The benefits for Internet merchants are:
You only need to deal with one company rather than an e-commerce provider and a bank.

Because Maron issues merchant status, there is a much faster time-to-market. This is very important in the Internet industry, where companies who establish a web presence first have a market advantage. This is evidenced by such internet companies as Amazon.com, e-bay and Yahoo.

Mission Control
Mission Control is a web-based application that comes free of charge for Maron merchants. It provides:
make on-line credit card payment transactions

search for existing transactions

create real-time reports

change their login information

log problems to Maron via the Internet

share in the latest Maron news
These functions can be performed from any web browser. Mission Control is secured via SSL and is user ID and password protected.



Payment/Settlement
With Maron funds can be settled into any bank account around the world. Settlement occurs every 14 days
Why is there a holding account?
The holding account exists for each client, because banks can not settle for each transaction. Therefore, all transactions are settled into the credit card companies' holding account which are settled in batches to the merchants bank account.



Reporting and Auditing
Each sale made through Maron is electronically documented. General ledger data is provided in several different formats, such as, text or excel spreadsheet. Taxation reports are also provided to merchants so that any legal requirements of your home country can be easily fulfilled.

Only Maron merchants can view transaction reports 24 hours a day seven days a week. Virtual merchants can view live transaction reports online through our secure, password protected Mission Control. This allows you to monitor the number and type of transactions you are processing at any time of the day or night. Only Maron merchants have access to this restricted area.

A settlement report will be e-mailed or faxed to the merchant when funds have been transferred to their nominated bank account.


| | | |
| --- | --- | --- |
| American Dollars | Australian Dollar | Austrian Schilling |
| Belgian Franc | Canadian Dollar | Danish Kroner |
| Dutch Guilder | British Pound | Euro |
| Finnish Mark | French Franc | German Mark |
| Greek Drachma | Hong Kong Dollar | Indian Rupees |
| Irish Pound | Italian Lire | Japanese Yen |
| Malaysian Ringgit | Mexican Peso | New Zealand Dollar |
| Norwegian Kroner | Pakistan Rupees | Philippine Pesos |
| Portuguese Escudos | Singapore Dollars | South African Rand |
| Spanish Pesetas | Swedish Kroner | Swiss Francs |
| Taiwan Dollar | Thai Baht | |

Security
Maron uses military strength encryption to ensure that all information is transmitted securely.



Integration
Maron is extremely quick and easy to integrate, because there is absolutely no software to install. Integration is done through an SSL Post.

Using the one URL, you can process test transactions and live transactions. Test transactions are performed when setting up your site and testing transactions. Maron allows you to send through transactions free of any charge and ensure your communication is correct. When you are satisfied with your test transactions and you are ready to roll your system into the production environment you can begin live transactions. The money will actually be credited to your account when transactions are approved. Transactions are billed, credit cards are charged and products or services are sold.



Communicating with Maron Pure Commerce Translation Server
There are two ways to communicate with the Transaction Server:
Using form posting to send data directly to the server

Via Mission Control - a secure web interface for manual processing
Using Form Posting to Send Data to The Maron Pure Commerce Transaction Server
Maron provides the developer with a set of simple protocols for communicating with the Transaction Server while providing the complete functionality of a piece of credit card processing hardware. Secure Socket Layers (SSL) is used to do the communication between the web server and the Maron Pure Commerce Transaction Server. Most servers have SSL pre-installed, thus, development of your project is easier and faster. SSL embraces in itself a true industry strength asymmetric model of cryptography that makes use of public and private keys for encryption and decryption. The benefit is that the web server manages the whole of the session management and key exchange. It is completely behind the scenes, completely transparent to the user and the application as well.



Using Mission Control
Mission Control has many functions, one of which is that it can act as a virtual swipe terminal. Mission Control gives you the ability to conduct manual transactions from any web browser.
Great for call centres

Perform reversals manually should it be required

Search for transactions, user details, and bank responses

Adds functionality to a legacy system

Generate reports, graphs and tables for statistical purposes
Communicating with the Mission Control is secured via SSL. It is password and user id protected.



Pricing
Maron has a once off license fee, which covers the set-up of the payment facilities. Transactions are charged a flat fee per transaction based on a sliding scale. The greater the transaction rate, the lower the price per transaction. Maron incurs a monthly administration fee.
Contact us for further information – Post your query now.
Contact us for further information – Post your query now