eTranslate provides a unique Weblog application for organizations that seek to host their own Weblog application. eT Weblog comes with a wealth of features that ease the administration and do not require IT knowledge in supporting the application.

eT Weblog comes as open source and has extensive flexibility in terms of integration to other applications. eTranslate will provide full end to end support and full customisation services. eT Weblog is the only solution in the marketplace that offers full customization support.



Features
Visual Editor
Entries Statistics
Threaded Comments
Multiple Categories of Content
Comment moderation
Dynamic caching
Search Engine friendly URLs
Administration tools
RSS feeds enabled
Internationalised for foreign languages
On a business level a website blog adds value to the company in many ways:
Builds a community
Improves search engine visibility
Provides content for the website
Provides a tool to get information quickly to customers
Gets feedback from customers
Helps increase sales
Encourages customers to approach the company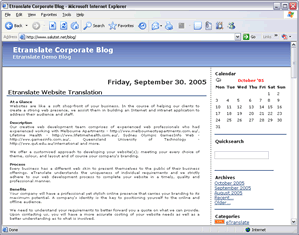 Technical features:
Organisable into categories 每 group your weblog entries by topic
Robust Editing Interface. Featuring an (optional) WYSIWYG editor, easily browsable image manager, extended entry support and entries statistics
Threaded comments, Nested categories and posting to multiple categories are supported
Content archive 每 monthly searchable archives of older content
Data Import/Export 每 Easy migration of content from and to other weblogs via RSS, Movable Type or other common formats.
Media repository 每 add images, videos, PDFs and other files to your weblog for download by the visitors
Embedded calendar 每 Yearly calendar browsable by the user to view weblog entries by date
Comment moderation. You can enable automatted comment moderation based on the content of a comment. Highly configurable.
Support for XML-RPC Editing. Support for both the Movable Type and Blogger XML-RPC APIs
Dynamic. No need to wait while the weblogging system regenerates pages. Caching is dynamically managed. Optional advanced URL rewriting rules are available
Multiple Users. Multiple users can edit and administrate the weblog
Internationalized. Weblog interface is available in English, Chinese, French and many other languages
Skinable. Templates can easily be added. Several templates are included by default. Maintainers of the blog are able to change the layout on-the-fly if you use the template-dropdown plugin
Standards Compliant. The software supports XHTML 1.1, CSS 2.0, RSS 0.93, 1.0, and 2.0. Supports conditional GET for caching RSS feeds on the client-side
Shared library. You can use Weblog as a single installation to serve multiple weblogs, but only maintaining a single installation
Flexible Input/Output. Choose between HTML, WYSIWYG and/or BBCode markup. For both users and editors

Technical Specification
The system is built in PHP and resides in either a Unix/Linux server or a Windows server with PHP support. The system will be supplied as open source code and has flexibility in integrating to other applications.
Software requirements:
Apache Webserver
PHP Version 4 or greater (PHP 4.3.1 or greater recommended)
One of the following database engines:
Recommended hardware:
The system will run smoothly on all modern hosting server hardware. A sample commercially available server would include CPU Pentium 2+ Ghz, 512+ MB RAM, 100 GB HDD, Ethernet 100Mbps.

Online Demonstration
For a demonstration, please visit www.salutist.net/blog.

At the bottom right there is a link to the admin area:
Username: admin
Password: admin

Levels of Customisation
eTranslate can provide extensive services for eT Weblog customisation:
Level 1 每 user interfaces, glossary and branding
Level 2 每 changes in layout, entries format, grouping, sorting, searching and reporting
Level 3 每 change in administration features, workflow and integration to other applications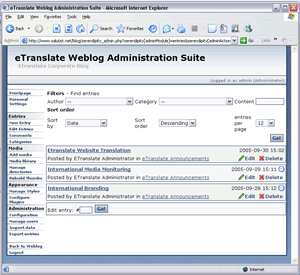 Maintenance and Support
eTranslate can provide full comprehensive support and maintenance to ensure a continuous operation of the blogs at their peak performance.
eTranslate provides three levels of support:
Level 1 每 Webmaster support on the user of the system, user guidance
Level 2 每 Support in troubleshooting and work around solutions
Level 3 每 Software changes to address issues
Hours of support:
Monday 每 Friday: 9am 每 6pm (email and phone)
Saturday and Sunday: 10am 每 5pm (email)

Pricing
Software License:
US$2,500 (per server 每 unlimited users)
US$5,500 (across multiple servers 每 unlimited users)
Maintenance : US$ 3,500 per annum
Customisation and Development:
Customisation : US$99 per hour
Development : US$ 120 per hour

Business Benefits
eT Weblog offers all the benefits of a hosted solution to organizations that seeks to host their own blogs. This brings the best of both models and enables companies to save on their cost of operation while delivering a continuous service.
Companies will enjoy less dependency on IT and more creative input from its administrative and operation support.

Contact us for further information – Post your query now