Document Management

Document and digital asset management is key to the functionality of any Intranet, Internet or Extranet site. Meridium has a powerful and fully integrated Document Management System which provides the ability to store, version, categorise and limit access (via permissions) to documents and files.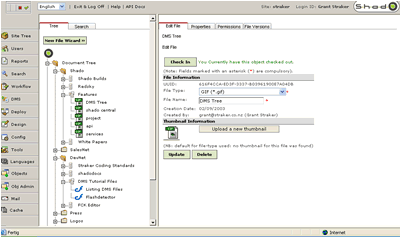 Intelligent behaviours - one of Meridium's unique features is the ability to apply runtime behaviours to files. Behaviours can be easily scripted via the Meridium API and can provide such functionality as:
Making images display icons that pop up to larger versions of the file.
Using properties or meta data associated with the file to determine how it is displayed at runtime.
Users/Security
Reporting
Versioning

Granular permissions down to a single document object
Inherited Permissions
Logging and auditing
LDAP / Aactive Directory
Document locking - check in/out

Track click throughs
Changed documents

New document created on change
Roll-back on

Extensibility
Search
Workflow

Web services interface (SOAP)
Meridium API with over 100 custom DMS functions
OOP core document model - easily add custom events, properties to document object.

Verity full text search
Separate collections for each document object.
Automatic reindex
Ability to integrate custom collections

Liner and non-linear workflow
Workflow inheitence
Custom workflow rules


Contact us for further information – Post your query now